A Critical Comparison of Three Half Marathons I Have Run
I have now run in three half marathons: the Berkeley Half Marathon (November 2017), the Kaiser Permanente San Francisco Half Marathon (February 2018), and the Oakland Half Marathon (March 2018).
To be clear, the Kaiser Permanente San Francisco half marathon is not the same as a separate set of San Francisco races in the summers. The Oakland Half Marathon is also technically the "Kaiser Permanente […]" but since there's only one main set of Oakland races a year — known as the "Running Festival" — we can be more lenient in our naming convention.
All these races are popular, and the routes are relatively flat and therefore great for setting PRs. I would be happy to run any of these again. In fact, I'll probably will, for all three!
In this post, I'll provide some brief comments on each of the races. Note that:
When I list registration fees, it's not always a clear-cut comparison since prices jack up closer to race day. I think I managed to get an "early bird" deal for all these races, so hopefully the prices are somewhat comparable. Also, I include taxes in the fee I list.

By "packet pickup" I refer to when runners pick up whatever racing material is needed (typically a timing chip, bib, sometimes gear as well) a day or two before the actual race. These pickup events also involve some deals for food and running equipment from race sponsors. Below is a picture that I took of the Oakland package pickup:




While I list "pros" and "cons" of the races, most are minor in the grand scheme of things, and this review is for those who might be picky. I reiterate that I will probably run in all of these again the next time around.
OK, let's get started!
Berkeley Half Marathon
Website: here.
Price I paid: about 100 dollars, including a 10 dollar bib shipping fee.
Pros:
The race has a great "local feel" to it, with lots of Berkeley students and residents both running in the race or cheering us as spectators. I saw a number of people that I knew, mostly other student runners, and it was nice to say hi to them. There was also a cool drumming band which played while we were entering the portion of the race close to the San Francisco Bay.

The course is mostly flat, and enters a few Berkeley neighborhoods (again, a great local feel to it). There's also a relatively straight section at the roughly 8-11 mile range by the San Francisco Bay and which lets you see the runners ahead of you when you're entering the portion (for extra motivation). As I discussed two years ago, I regularly run by this area so I was used to the view, but I can see it being attractive for those who don't use the same routes.

There are lots of pacers, for half-marathon finish times of 1:27, 1:35 (2x), 1:45, 1:55, etc.

The post-race food sampling selection was fantastic! There were the obligatory water bottles and bananas, but I also had tasty Power Crunch protein bars, Muscle Milk (this is clearly bad for you, but never mind), pretzels, cookies, coffee, etc. There was also beer, but I didn't have any.

Post-race deals are excellent. I used them to order some Power Crunch bars at a discount.

The packet pickup had some decent free food samples. The race shirt is interesting — it's a different style from prior years and feels somewhat odd but I surprisingly like it, and I'll be wearing it both to school and for when I run in my own time.
Cons:
There's a $10 bib mailing fee, and I realize now that it's pointless to pay for it because we also have to pick up a timing chip during packet pickup, and that's when we could have gotten the bibs. Thus, there seems to be no advantage to paying for the bib to be mailed. Furthermore, I wish the timing chip were attached to the bib; we had to tie it within our shoelaces. I think it's far easier to stick it on the bib.

The starting location is a bit awkwardly placed in the center of the city, though to be fair, I'm not sure of a better spot. Certainly it's less convenient for drop-offs and Uber rides compared to, say, Golden Gate Park.

There were seven water stops, one of which had electrolytes and GU energy chews. (Unfortunately, when running, I actually dropped two out of the four GU chews I was given … please use the longer, thinner packages that the Oakland race uses!!) The other two races offered richer goodies at the aid stations so next time, I'll bring my own energy stuff.

It was the most expensive of the races I've run in, though the difference isn't that much, especially if you avoid making the mistake of getting your bib mailed to you.

The photography selection after the race is excellent, but it's expensive and most of it is concentrated near the end of the race when it's crowded, so most pictures weren't that interesting.
Kaiser Permanente San Francisco Half Marathon
Website: here.
Price I paid: about $80.
Upsides:
The race route is great! I enjoyed running through Golden Gate Park and seeing the Japanese Tea Garden, the California Academy of Sciences, and so on. There's also a very long, straight section in the second half of the race (longer than Berkeley's!) by the ocean where you can again see the runners ahead of you on their way back.

There's a great selection of post-race sampling, arguably on par with Berkeley though there's no beer. There were water bottles and bananas, along with CLIF Whey protein bars, Ocho candy, some coffee/caffeine-base drinks, etc.

The price is the cheapest of the three, which is surprising since I figured things in San Francisco would be more expensive. I suspect it has to do with much of the race being in Golden Gate Park, and the course is set so that there isn't a need to close many roads. On a related note, it's also easy to drop off and pick up racers.

You have to finish the race to get your shirt. Of course this is minor, but I believe it's not a good idea to wear the official race shirt on race day. Incidentally, there's no package pickup, which means we don't get free samples or deals, but it's probably better for me since I would have had to Uber a long distance to and back. You get the bib and timing chip mailed in advance, and the timing chip is (thankfully) attached to the bib.
Downsides:
No pacers. I don't normally try to stick to a pacer during my races, but I think they're useful.

While there was a great selection of post-race food sampling, there was no beer offered, in contrast to the Berkeley and Oakland races.

With regards to post-race photographs, my comments on this are basically identical to those of the Berkeley race.

All the aid stations had electrolytes (I think Nuun) in addition to water. It was a bit unclear to me which cups corresponded to what beverage, though in retrospect I should have realized that the "blank" cups had water and cups with a lightning sign on them had the electrolytes. The drinks situation is better than the Berkeley race, but the downside is that there were no GU energy chews, so perhaps it's a wash with respect to the aid stations?

It felt like there were fewer people cheering us on when we raced, particularly compared to the Berkeley race.

I don't think there were as many post-race discount deals. I was hoping that there were some deals for the CLIF whey protein bars, which would have been the analogue of the Power Crunch discount for the Berkeley race. The discount deals also lasted only a week, compared to two months for Berkeley's post-race stuff.
Oakland Running Festival Half Marathon
Website: here.
Price I paid: about $90.
Upsides:
The race started at 9:45am, whereas the Berkeley and San Francisco races each started at about 8:10am. While I consider myself a morning person, that's for work. If I want to set a half marathon PR, a 9:45am starting time is far better.

The Oakland race easily has the best aid stations compared to the other two races. Not only were there electrolytes at each station, but some also had bananas, GU gels, and GU chews (yes, GU has a lot of products!). Throughout the race I consumed two half-bananas (easy to eat since you can squeeze them), one GU gel, and one GU chew package, which contained about eight chews. This was very helpful!

There were lots of spectators and locals cheering us on, possibly as much as the Berkeley race had.

The view of Lake Merritt is excellent, and it's probably the main visual attraction. Other than that, the race enters the city of Oakland throughout mostly the business sector. Also this was the only one of the three races where a marathon was simultaneously offered, so there were a few marathoners mixed in with us.

There's a great package pickup (which I showed a photo of earlier), which probably had as many deals as the Berkeley package pickup. We had to show up to the pickup to get the bib and the timing chip (attached to the bib). While I was there, I bought several GU products that I'll use for my future long-distance training sessions.

Each runner got tickets for two free Lagunitas Beer cups. We had this offering after the race, but one was enough for me. I'm not sure how people can down two servings quickly.

There were pacers for various distances.

Race photos are free, which is definitely refreshing compared to the other two races. Disclaimer: I'm writing this post one day after the race occurred, and I won't be able to download the photos for a few days, so the quality may be worse on a per-photo basis.

Unfortunately, I don't think there are any post-race deals. Hopefully something will show up in my inbox soon so I can turn this into an "upside." Update 03/27/2018: heh, a day later, I get an email in my inbox showing that there are some race deals. Excellent! The deals seems to be just as good as the other races, so I'll put it as an upside.
Downsides:
The race scenery is probably less appealing than the Berkeley or San Francisco races. The route mostly weaves throughout the city roads, and there aren't clear views of the Bay. Also, the turn near the end of the race when we see Lake Merritt again is narrow and awkwardly placed, and it's also hilly, which is not what I want to see at the 12th and 13th mile checkpoints.

The post-race food sampling was probably weaker compared to the other two, though it's debatable. There were water bottles, as you can see in my photo below, along with bananas and some peanut butter bars and energy drinks. I think the other races had more, and I was disappointed when the Oakland website said that racers would "receive bagels" because I didn't see any! On the positive side, I got a free package of GU stroopwafel, so again, it's debatable.

The race isn't as good at storing your sweats. At Berkeley, we could save our sweats in the Berkeley high school gym, and it was easy for us to retrieve our bags after the race. For Oakland, it was stored in a small tent and we had to stand in line for a while before a volunteer could find our stuff.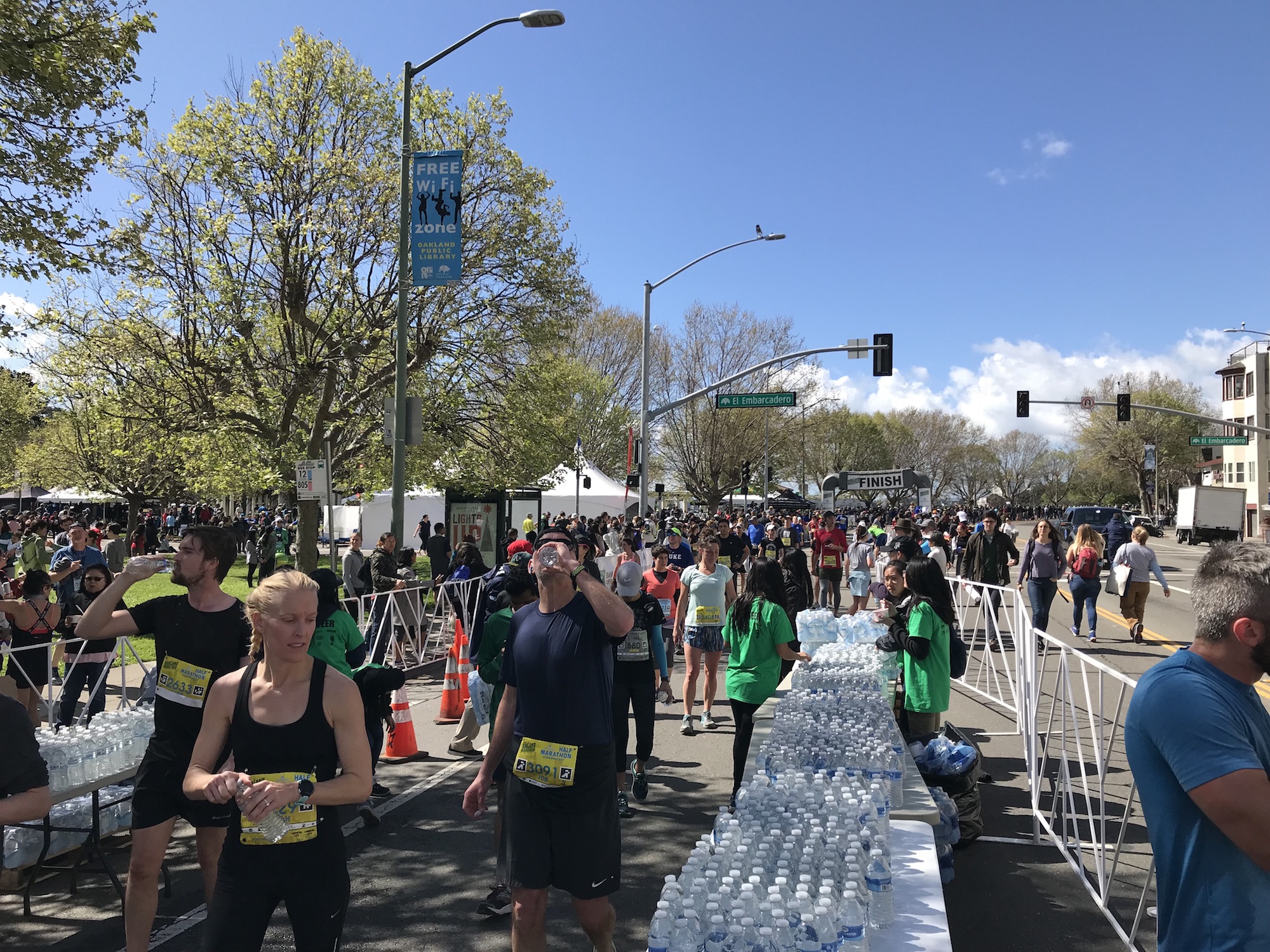 The finish line of the Oakland races (including the half marathon).
Conclusion
I'm really happy that I started running half marathons. I'm signed up to run the San Francisco Second Half-Marathon in July. If you're interested in training with me, let me know.