Prelude to ICRA 2018, Day 0 of 5
On Friday, May 18, I bade farewell to my apartment and my work office to go to San Francisco International Airport (SFO). Why? I was en route to ICRA 2018, the premier conference on robotics and — I believe — its largest in terms of number of papers, conference attendees, and the sheer content offered in the form of various tutorials, workshops, and sponsor events.
For travel, I booked an Air Canada round trip from San Francisco to Vancouver to Brisbane. Yes, I had to go north and then go south …. there unfortunately weren't any direct flights from San Francisco to Brisbane during my time frame (San Francisco to Sydney is a more popular route). But I didn't mind, as I could finally stop using United Airlines.
As usual, I got to the airport early, and then hiked over to the International Terminal. At SFO, I'm most familiar with Terminal 3 (United) and the International Terminal (for international travel) and for the latter, my favorite place to eat is Napa Farms Market, which embodies the essence of San Francisco cuisine. I had some excellent pork which was cut in-house, and cauliflower rice (yeah, see what I said about SF?).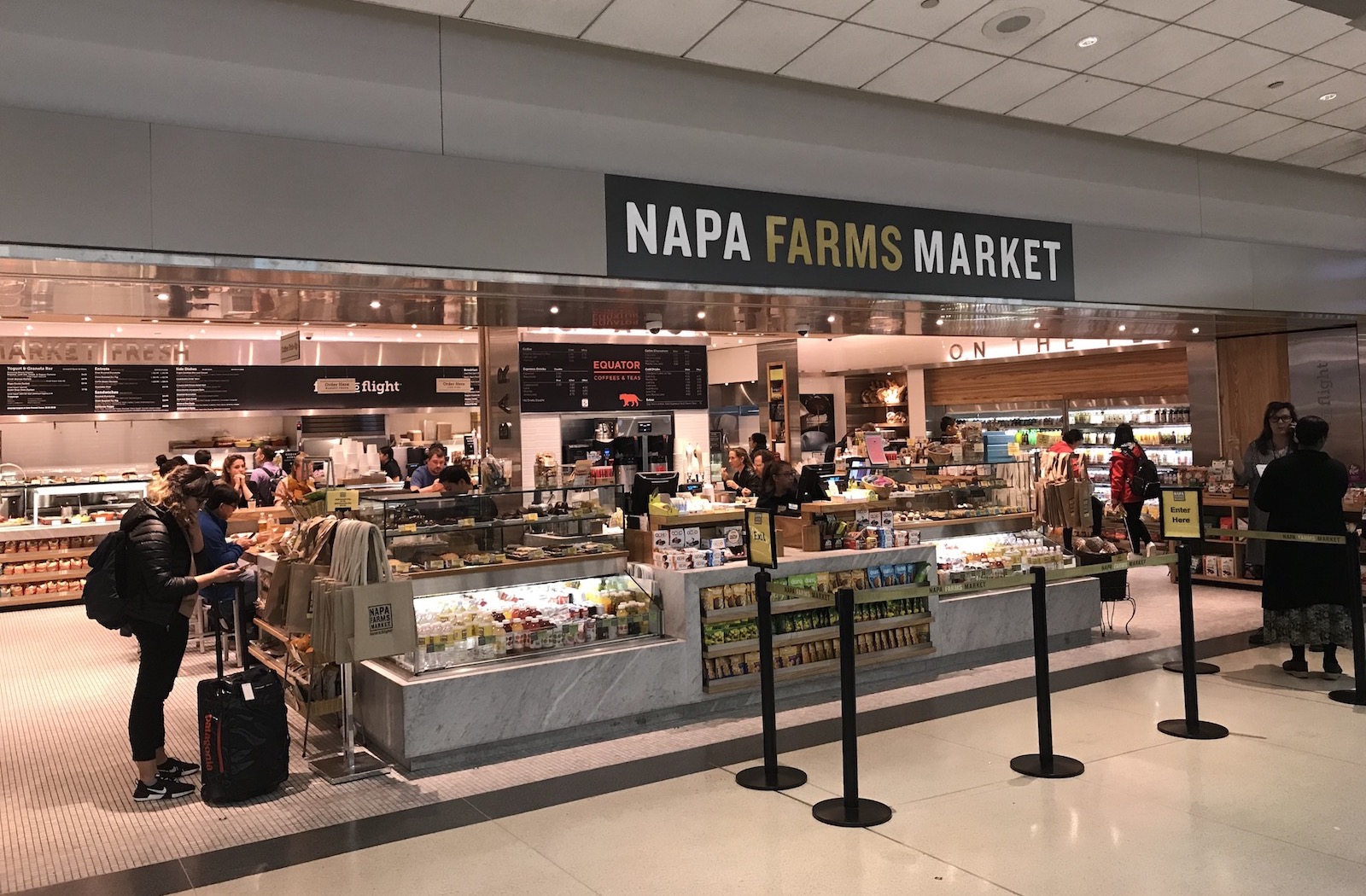 The SFO Napa Farms Market.
Incidentally, for Terminal 3 dining, I highly recommend Yankee Pier and their fish dishes.
My original plan was to pass security at around 2:00pm (which I did), then get a nice lunch and relax at the gate before my scheduled 4:20pm departure time. Unfortunately, while I was eating my Napa Farms Market dish, the waterfall of delays would begin. After three separate delays, I soon learned that my flight to Vancouver wouldn't depart until after 7:10pm. At least, assuming there weren't any more delays after that.
Ouch, apparently United isn't the only airline that's struggling to keep things on time. Maybe it's a San Francisco issue; is there too much traffic? Or could it be due to the airport's awkward location? It's a bit oddly situated in the bay; it borders the inside of the bay, rather than the great Pacific Ocean.
The good news was twofold, though:
I had a spare United Club pass that I could use to enter a club. Fortunately, it turns out that even if you are not flying United, you can still get access to the clubs with a same-day boarding pass and a club pass. I don't know if it helped that Air Canada is part of Star Alliance, but I'm guessing this would be OK even if I was flying Air Whatchamacallit.
I had arranged for a five hour layover at Vancouver. My flight to Brisbane was scheduled to leave past 11:00pm.
This is why I aim for layovers of 5+ hours. It gives me an enormous buffer zone in case of any delays (and at SFO, I expect them) and I really don't want to be late for academic conferences. Furthermore, the delays let me relax at airports for a longer time (assuming you have access to lounges!) which means I can string together a longer time block reading papers, reading books, and blogging, all while "fine dining" from a graduate student's perspective.
I went to the United Club at Terminal 3 since that's the largest one, and the lounge I'm most familiar with due to all my domestic United travels. I found a nice place to work (more accurately, read a research paper) and enjoyed some of the free food. I had a cappuccino, some cheese, crackers, fruit, and then enjoyed the standard complimentary house wine.
The good news was that the flight wasn't delayed too much longer, but I'm not sure how much a 3+ delay reflects on Air Canada. Hopefully it's a rare event. I boarded the flight and was soon in Vancouver.
The flight itself was non-eventful and I don't remember what I did. I entered Vancouver, and saw some impressive artwork when I arrived.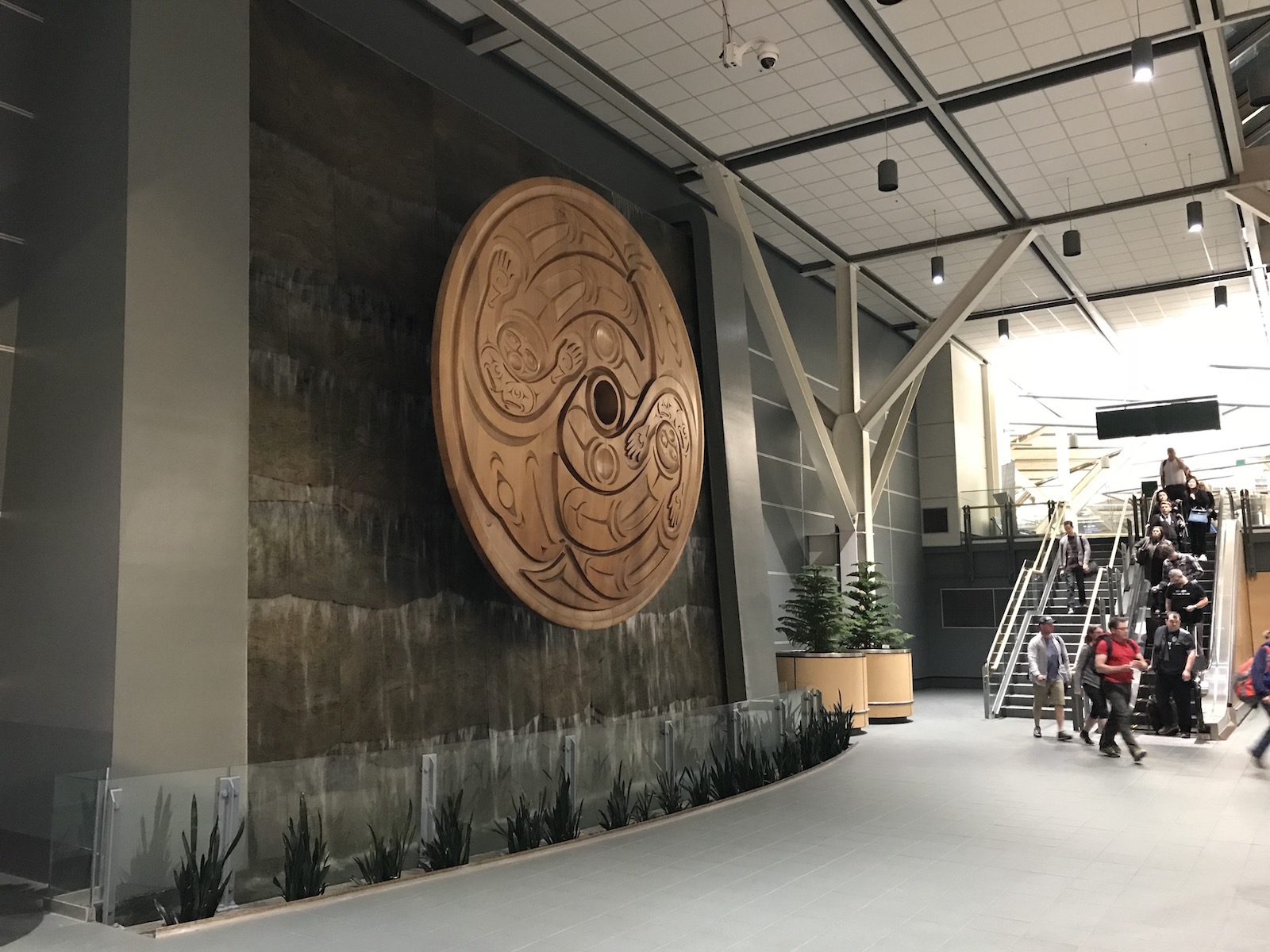 Vancouver artwork.
I couldn't waste too much time, though. I had to pass through immigration. Remember, United States =/= Canada. Just be warned: if you are arriving at a country from a different country, even if it is en route to yet another country, you still have to go through immigration and customs and then the whole security pipeline after that. Fortunately, despite how the line looks long in the photo here, I got through it quickly. Note also the sign language interpreter video.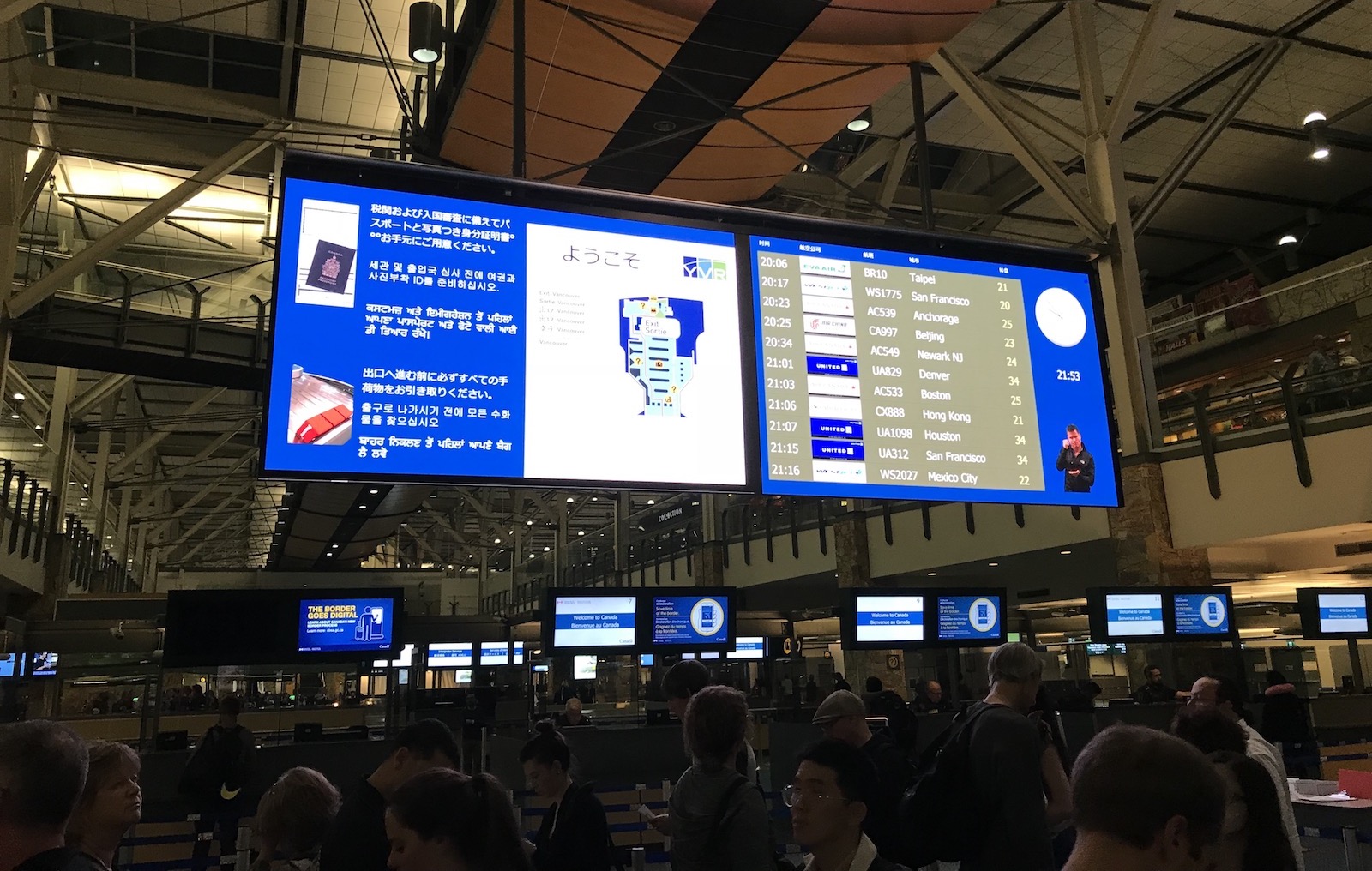 Immigration at Vancouver.
I quickly hurried over to my gate and managed to get some decent snacks at one of the few places that was open at 10:30pm. The good news is that I informed my credit card company that I was traveling in Canada and Australia, so I could use my Credit Card. Pro tip for anyone who is traveling! You don't want your card to be declined in the most awkward of moments.
And then … I boarded the fourteen hour and a half flight to Brisbane. Ouch! A few things about it:
There was free wine, so apparently the Air Canada policy is the same as United for long-haul international flights. I wonder, though, why they offered the wine an hour after we departed (which was past midnight in Vancouver and SFO time) when it seemed like most passengers wanted to sleep. I thought they would have held off providing wine until perhaps the 10-hour mark of the flight, but I guess not. I drank some red wine and it was OK to me, though another conference attendee (who I met once I arrived in Brisbane) told me she hated it.
The flight offered three meals (!!), whereas I thought only one (or at most two) would be provided. That's nice of them. I had requested a "fruit plate" dish upon paying for the tickets a few months ago, because I do not trust meat on airline food. To my surprise, the airline respected the request and gave me two fruit plates. I would have had a third, except I declined the last one since I decided to try out the egg dish for the third one, but really, thank you Air Canada for honoring my food request! I'll remember this for the future.
The guy who was in my set of three seats (sitting by the window) had an Nvidia backpack, so I asked him about that, and it turned out he's another conference attendee. I also saw a few Berkeley students who I recognized on the plane. I'm also pretty sure that other conference attendees could tell I was going because I was awkwardly dragging a bulky poster tube.
I sat in the aisle seat. This is what you want for a 14.5-hour flight, because it makes it so much easier to leave the seat and walk around, which I had to do several times. Always get aisle seats for long flights!! Amazingly, as far as I could tell, the Nvidia guy sitting at the window never left his seat for the entire flight. I don't think my body could handle that.
The flight offered the usual fare of electronic entertainment (movies, card games, etc.) but I mostly slept (itself an accomplishment for me!) and read Enlightenment Now — more on the book later!
I arrived in Brisbane, then went through immigration again. But before that, I passed through the following duty-free store which was rather judiciously placed so that passengers had to pass it before getting to immigration and customs: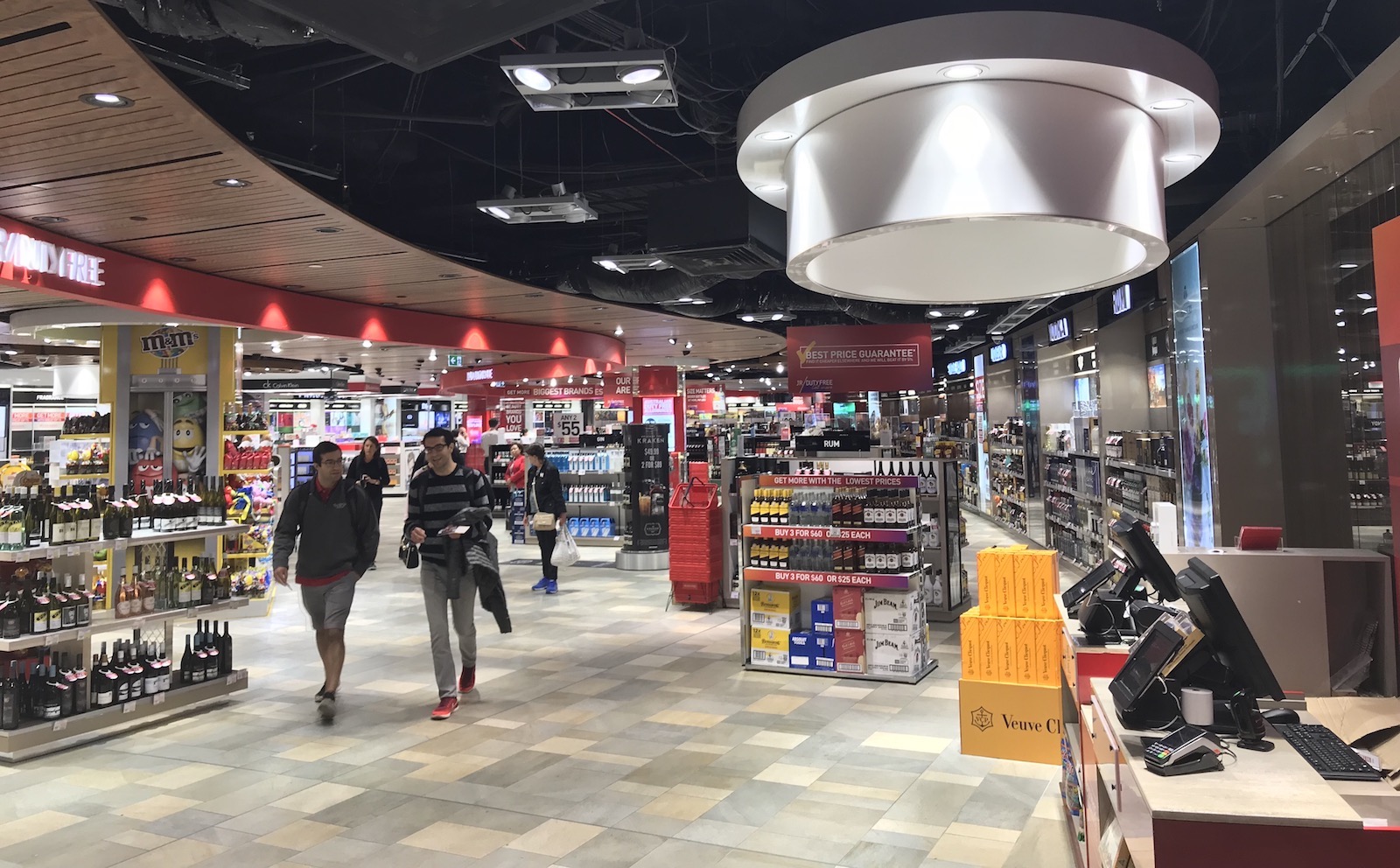 The duty-free area we passed through upon arriving to Brisbane.
There is a LOT of alcohol here! I enjoy some drinks now and then, but I wonder if society worldwide is putting way too much emphasis on booze.
Going through immigration was no problem at all. Getting my taxi driver to go to my hotel was a different matter. We had a testy conversation when I asked him to drive me to my hotel. I kept asking him to repeat and repeat his question since I couldn't understand what he was saying, but then I explicitly showed him the address which I had printed on a paper beforehand, and then he was fine. Yeah, lesson learned — just give them a written address and they'll be fine. Fortunately, I made it to the hotel at 9:00am, but check-in wasn't until 2:00pm (as expected), so I left my luggage there and decided to explore the surrounding Brisbane area.
ICRA this year is located at Brisbane Convention Centre which is in the South Bank Parklands. I could tell that there's a LOT to do. One of John Canny's students told me a few days ago that "there isn't much to do in Brisbane" so I had to send a friendly rebuke to him via text message.
I wandered around before finding a place to eat breakfast (in Australian time) which was more accurately lunch for me. I had some spinach, tomatoes, poached eggs, zucchini bread, and chai tea: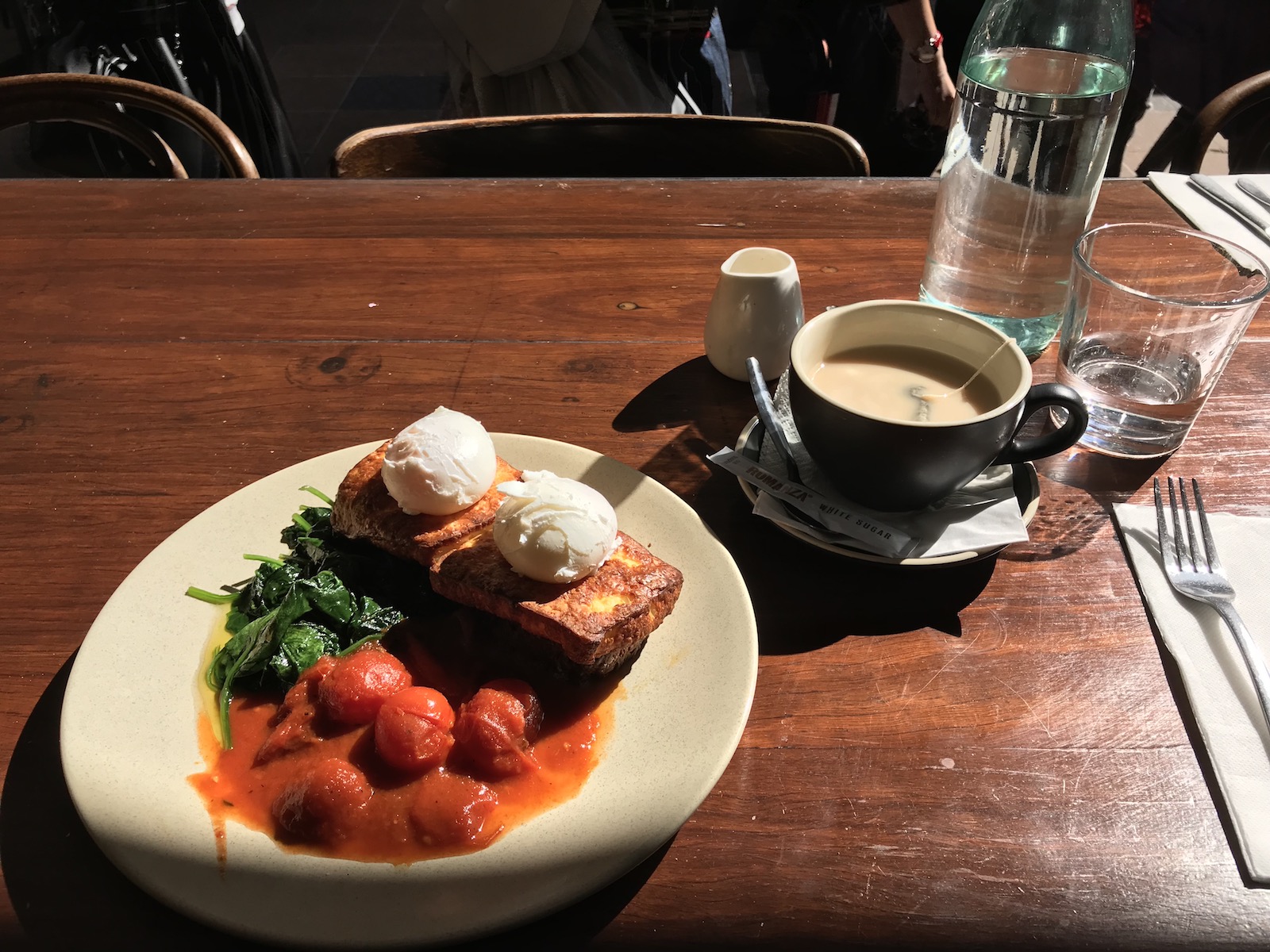 My lunch in the South Bank, Brisbane.
I'm not much of a poached egg person but it was great! And adding milk to the standard hot water and tea seems like an interesting combination that I'll try out more frequently in the future.
I took a few more pictures of the South Bank. Here's one which shows an artificial beach within the park on the left, with the real river on the right.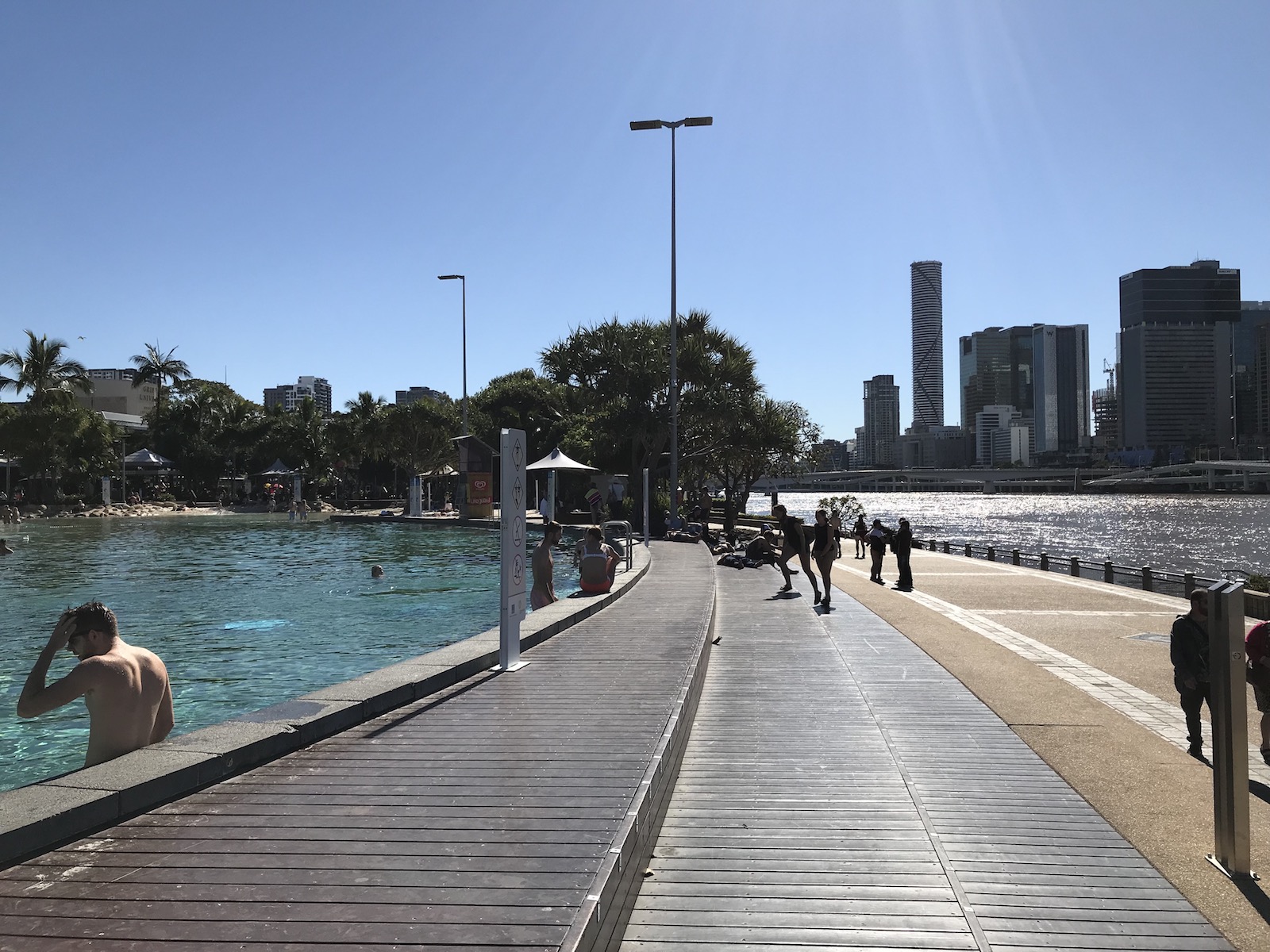 The artificial beach (left) and South Bank river (right).
Here's a better view of the "beach":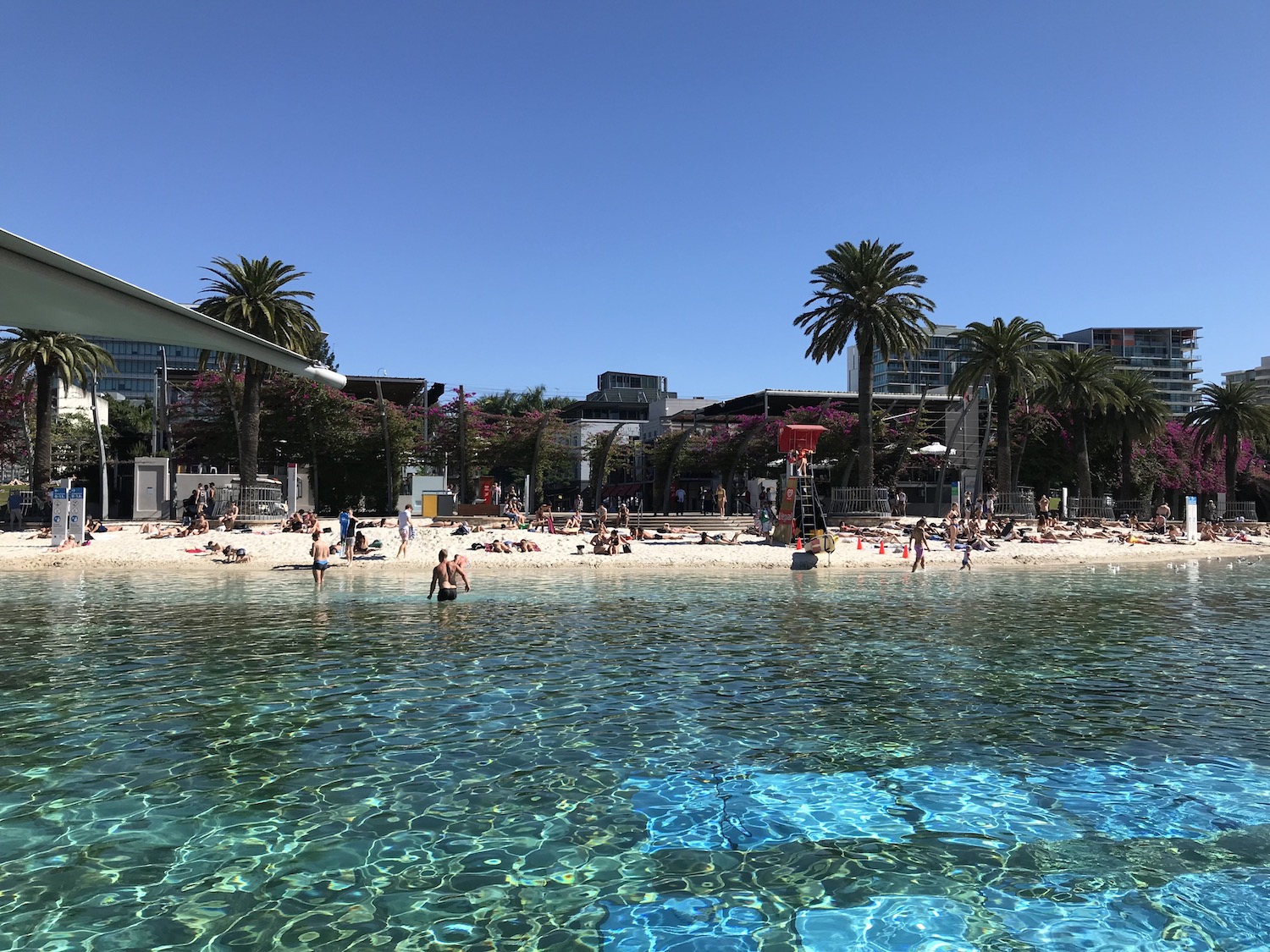 A view of the "beach."
There's tons of great stuff here: playgrounds, more restaurants, more extensive beaches, some architectural and artistic pieces, and so forth. I can't take pictures of everything, unfortunately, so please check out the South Bank website which should make you want to start booking some flights.
Just make sure you schedule your mandatory five-hour layover if SFO is part of your itinerary.
I wandered around a bit and found a nice place to relax: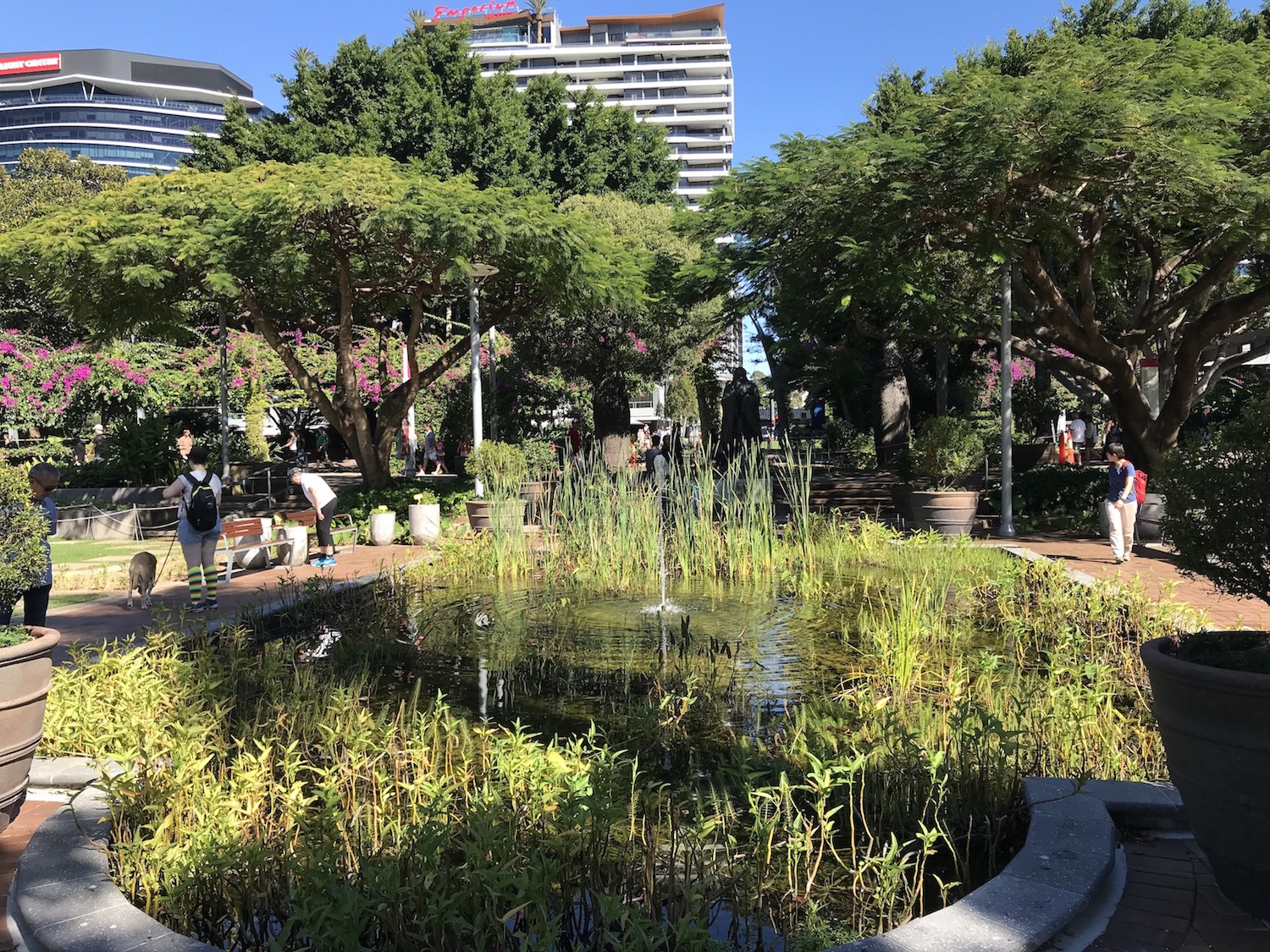 One of many places to relax in South Bank.
I sat on a bench and read, Enlightenment Now: The Case for Reason, Science, Humanism, and Progress. This is Bill Gates' favorite book, and is close to being one of my favorites as well. I'll blog about it later, but the main theme is that, despite what we may think of from the media and what politicians say, life has continued to be much better for humanity as a whole, and there is never any better time to live in the world than today. I think my trip to Brisbane epitomizes this:
I can board a 14.5 hour flight to go from Canada to Vancouver and trust that the safety record will result in a safe landing.
I can study robotics and AI, instead of engaging in backbreaking agriculture labor.
I have the freedom to walk around safely and read books as I please, rather than constantly worry about warfare or repercussions for reading non-government sanctioned books.
I have the ability to easily check in a hotel well in advance, to know that I will have a roof over my head.
I can blog and share the news about this to friends and family around the world.
Pinker doesn't ignore the obvious hardships that many people face nowadays, but he makes a strong case that we are not focusing enough on the positive trends (e.g., decline in worldwide extreme poverty) and, more importantly, what we can learn from them so that they continue rather than slide back.
I devoured Enlightenment Now for about an hour or two and took a break — it's a 500-page book filled with dense endnotes — and toured more of the South Bank. Overall, the place is extremely impressive and great for tourists of all shapes and sizes. Here are some (undoubtedly imprecise and biased) tradeoffs between this and the Darling Harbor area that I went to for UAI 2017:
Darling Harbor advantages: more high-end restaurants, better cruises, feels cleaner and wealthier
South Bank advantages: a larger variety of events (many family-friendly), perhaps cheaper food, better running routes
The bottom line is that both areas are great and if I had to pick any place to visit, it would probably be the one that I haven't been to the longest.
I then went back to my hotel at around 3pm, desperate to relax and shower. The hotel I was in, Ibis Brisbane, is one of the cheaper ones here, and it shows in what it provides. The WiFi is sketchy, the electrical outlets are located in awkward configurations, there is no moisturizing cream, only two large towels are offered, and there is no fitness center (really?!?!?!?!?!?!?!?!?).
It's not as good as the hotel I stayed at in Sydney, but at least it's a functioning hotel and I can stay here for six nights without issues.
I showered and went out to explore to get some sources of nutrition. I found a burger place and was going to eat quickly and head back to the hotel … when, as luck would have it, six other Berkeley students decided to come to the place as soon as I was about to leave. They generously allowed me to join their group. It's a good thing I was wearing a "Berkeley Computer Science" jacket!
I followed them to their hotel, which was heads and shoulders better than mine. Their place was a full studio with a balcony, and the view was great: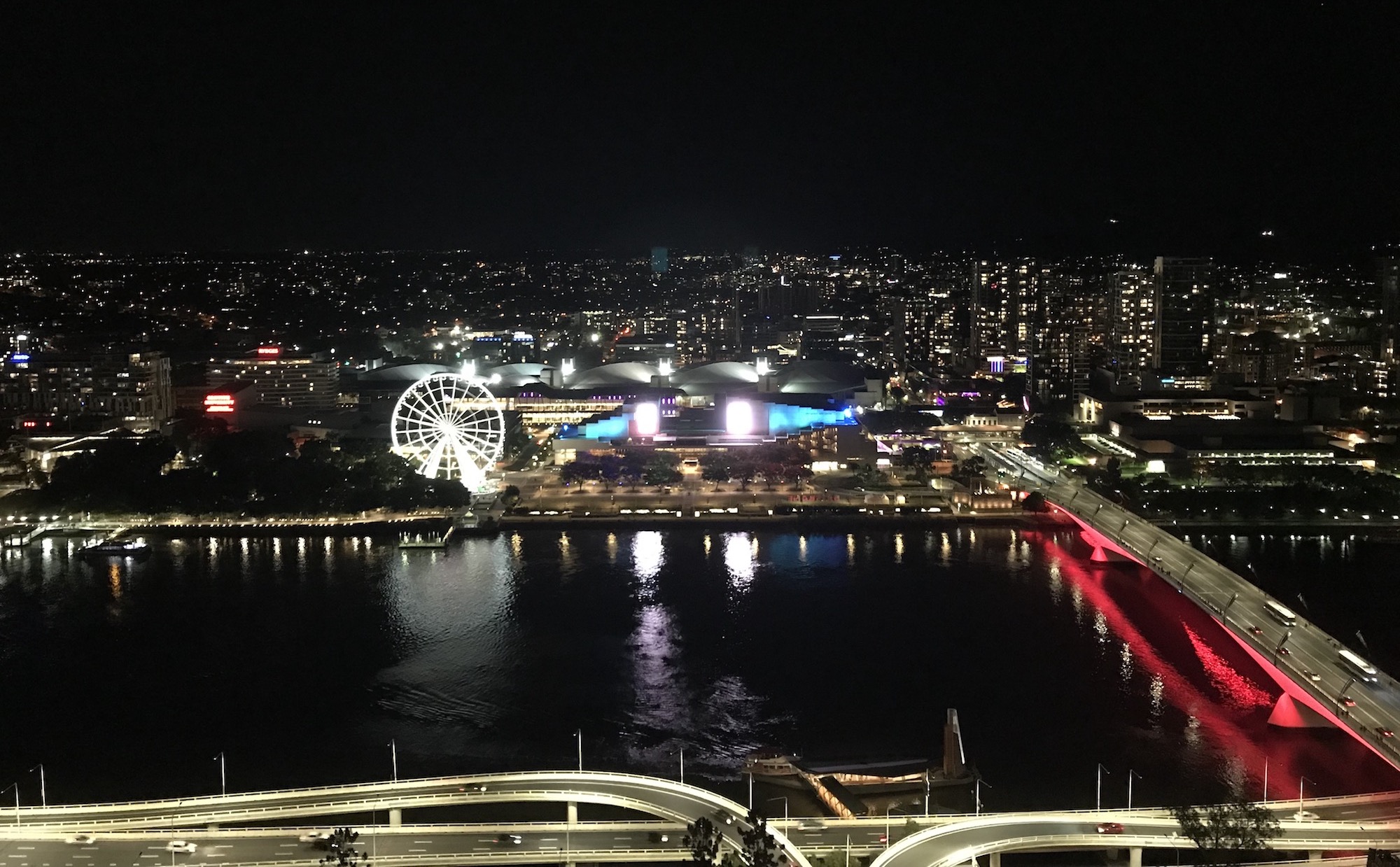 The view of the South Bank at night from high up.
I stayed for a while, then walked back to my hotel. I slept early, reaping the benefits of judiciously drinking coffee and timing meals so that I can wake up early and feel refreshed for tomorrow.